---
Shortly after the Civil War ended, John Teal (great great grandfather of the current owners) and his son Nicholas began to operate a freight and passenger service in the sparsely populated Adirondack Region of New York State. Although they met with early success, Nicholas' keen sense of business trading could not compensate for his lack of ability to read and write, and that issue forced him into an early bankruptcy, a choice he had little direction over.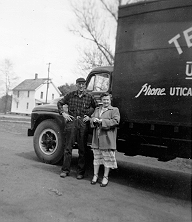 By 1926 Nicholas' son John, who had retained his father's business prowess, was able to amass enough money to purchase back the local trucking company his father had started and John then began operating weekly trips into the Utica area. When business was slow he would take his team of horses and plow gardens in the spring and then city streets in the winter. By 1928 he was making daily trips to and from Utica and the Teal name became synonymous with honesty and efficient work habits.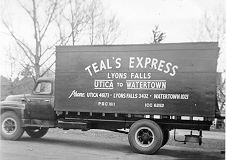 Around 1934 a major influx of new business came with contract authority to haul paper from the Lyons Falls Paper Mills into the Post-Standard Newspaper in Syracuse, NY. This new contract became the basis for additional work in the Central New York Region and provided a base account for Teal's Express to grow on.
By 1951 Teal's Express had expanded their authority into the Watertown and Dexter areas of New York. All family members, including Mrs. Teal, were enlisted to help the business grow and prosper. Many local shop owners would give John the keys to their stores so he could deliver food and produce at night, and, because of his reputation for honesty and integrity, they never had to worry about theft or any unreported O.S.&D. problems.
In December of 1962 John Teal Sr. passed away but the business continued on with his wife Mary and three sons, John, Robert, and Edward, as well as two daughters, Mary and Shirley. In 1976, the company's authority was extended into the Syracuse area and four years later expanded again to service the Albany, Rochester, and Massena areas of New York State as deregulation of the industry occurred.
In 1990, Teal's again expanded their operation and began to service the Buffalo NY marketplace and concurrently received their Canadian authority to begin their International operations. In 1992, Teal's enlarged their service territory again and began to provide daily service throughout the Northeast with strategically based operations in Massachusetts, Pennsylvania and New Jersey.
The year 2000 welcomed a new State-of-the-Art Maintenance facility for Teal's at their Utica, NY break-bulk terminal, the central hub terminal for the company. This facility is located adjacent to the Utica Terminal, which is strategically located off exit 31 of the New York State Thruway. The maintenance facility includes three drive-through service bays, one tractor service bay, and one drive-through wash bay. The facility is equipped to service, repair and maintain all of the Teal equipment and provides 24-hour service for maximum efficiency.
In the fall of 2006, a significant investment was made in our computer system. We now are able to offer our customers the convenience of online access to their shipment tracing and rating data. We continually improve our information technology to meet customer requirements.
The spring of 2008 saw Teal's relocate their Jersey City NJ terminal across the city to a larger facility. In the spring of 2011 Teal's invested in a new facility in Philadelphia PA. During the summer of 2012, the northeastern PA facility was relocated to a 35-door terminal and warehouse operation in Pittston PA. Each of these investments resulted in more space for better customer service.
Teal's Express provides the Northeast Region with consistent and dependable service. Teal's continues to remain a family owned business. John's sons Michael and Joseph lead the company in the 21st century. Mike's son John becomes the next generation to bear the name that still reflects the honesty and integrity that it did back in the first half of the 20th century.
The Teal family and their employees extend their appreciation to all the many loyal customers who have helped Teal's Express become a recognized leader in the transportation industry today.